This post has been a long time coming, over a year in fact.
I love to be completely transparent in what I do and what you read on these pages, so I will rewind way back to the beginning of 2017 and let you in on the story…
This time last year I was looking down the barrel at a lot of work, summer was over and the PS13 was far from finished. I knew exactly what I had to do but was putting it off for as long as I could, I knew I was going to have to really put in the hard yards to finish it.
Then a call came through from Ryco Filters with news they had been working on a new range of performance air filters. There was a deal on the table, they help me finish the car in return for me being a brand ambassador of their product while showcasing it on the car.
Boy did that spark a real working bee on the car, it was the break I needed and the help that allowed me to finish it off to the level it is today.
As the filters went through pre production testing my excitement grew, I just had to make sure I lived up to my end of the deal and displayed their product in the right light ontop of the right setup.
That's where Warren Cooper comes into the story, with the car running, tuned and mostly completed I dragged it up to WTAC to display. I left everything in Sydney, went to America for a month and then picked up where I left off driving up to Grafton to Coopertec HQ and presenting Warren with the task at hand.
Making that filter work on this setup.
I usually don't get anyone to do anything for me, but I just knew I didn't have what it takes to produce a level of carbon quality like Warren does.
I dropped off the car and went through the brief with Warren, he explained to me a little about composites and how he was going to produce this air box and carbon trumpets.
I was prepared and ordered a few extra spun alloy inlet velocity stacks while Warren ordered the Carbon socks that would make up the trumpets, three layers to be exact. The beauty of the socks is that there is no join line in the weave, therefore they are 360 degree perfect.
We spent the afternoon making sketches and ensuring we were on the same page, Warren was impressed with the filter and I am happy Ryco made one in my exact size.
I shook Warrens hand, wished him all the best, drove to Byron Bay, swam in the ocean and went to sleep in the back of my van dreaming about what was about to be created.
A month went by and I flew back up to Qld, grabbed my van and then went south to Grafton.

Warren had been busy making these ideas a reality.
From carbon socks to….
Functional velocity stacks.
The air box was also nearing completion.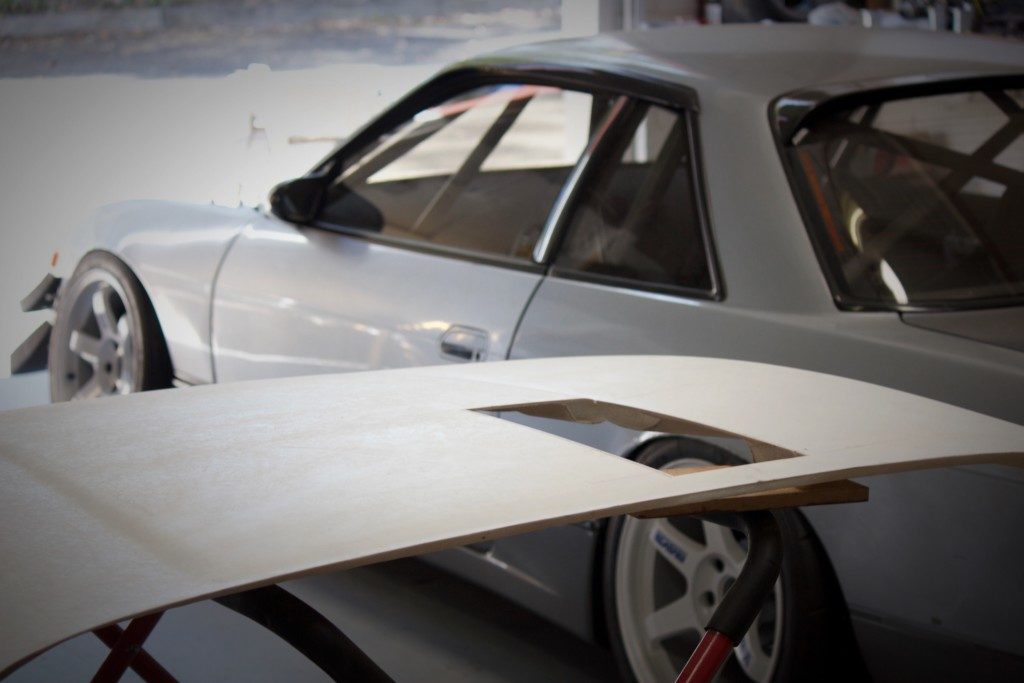 The venting for the bonnet would be a little project left for later on.
Fast forward about 4 months and a box appears at my front door, it's extremely light and has a return address with CooperTec on it…… its time!
I unwrap the box and am blown away with the finish and fitup of the carbon velocity stacks that fit snugly into the carbon box.
The Ryco filter is encased in a carbon top that fits like perfection over the top edge of the airbox, looking inside ticks every box that I left Warren to complete.
The seamless weave of each trumpet sitting up on an angle inside the insanely smooth and glossy airbox is incredible, it's these layers of carbon and the shapes that I wanted, Warren nailed it.
It arrived just 2 days before I had booked my test and tune day, a real surprise as I just couldn't wait to drive it any longer.
I removed the complete inlet side of the engine to ensure that the hole patterns all lined up.
Because there's a small amount of play in the adapter to head, then the adapter to throttle meant that if I screw the adapters to the carbon base plate of the velocity stacks, then screw the adapters to the head in theory it all should line up.
I worked late into the night, my track day was the next day, I decided not to rush things and run my alloy velocity stacks instead.
As this engines pistons and bore are all factory I wasn't too worried about the damage that would occur, but I am really looking forward to having the Ryco filter all fitted up.
Not to mention the FRP bonnet fits horribly so I will get a carbon bonnet and use this FRP one as a template.
Im off to the track now, thanks Warren and Ryco for the amazing work you have done on this inlet!
Stay tuned for some noise!