Life's a funny thing, I'm 32 years old now and over the past year I have been trying to figure out where a lot of my drive has gone.
That doesn't mean I have stopped doing what I love doing it just means I have lost a little bit of the direction I once had.
Think about it like this, the Hilux that I built was a massive job, my drive to complete it though was intense to say the least, I put 110% into every aspect of that build, all I ever thought about was finishing it, then after a year of debuts, travelling with it to NZ, driving QLD Matsuri, using it as my wedding car and enjoying the hell out of it I just stopped.
I got to the end of everything I had ever planned, that intense 4 years of back breaking labour was over, it was a massive success and I was relieved that everything went down how it did, I was excited to take on new adventures and dabble in a lot of interests that grew but had no room for expansion in that time.
The trip to the USA threw me into a world I loved, I was finally able to get involved in vintage motorcycles, with all the wild experiences I have had there's still nothing more satisfying than blasting down the road or the track on a motorcycle that has been meticulously handcrafted.
This kind of brings me to my point, motorcycles are a relatively simple mix of things, the drive and passion required to complete a motorcycle build is lesser than its 4 wheel counterparts, therefore the emotion and passion attached is lessened, the feelings upon completion are still there but its just not what it is with a ground up build like my Hilux.
As I sit here I plan on reconstructing the PS13 and I have been saying that for years but its something that I really want to do, unfortunately I am really unhappy with just about everything I had done to that car, if I had my time again I would have left it how it was 3 years ago and then been able to street drive it. So when I do it ill do it properly, you will see.
Material possessions aside I have had some pretty good times this year, I think this is where motorcycles shine, the people I have met through motorcycles has been a huge positive for me.
The movie is now days away from completion, we went above and beyond with this one, hopefully our roll out plan will allow you to be involved in person but more on that soon.
Events like Chopped combine a large amount of good people with similar interests, my friends and I all had a great weekend.
Its just a simple weekend away.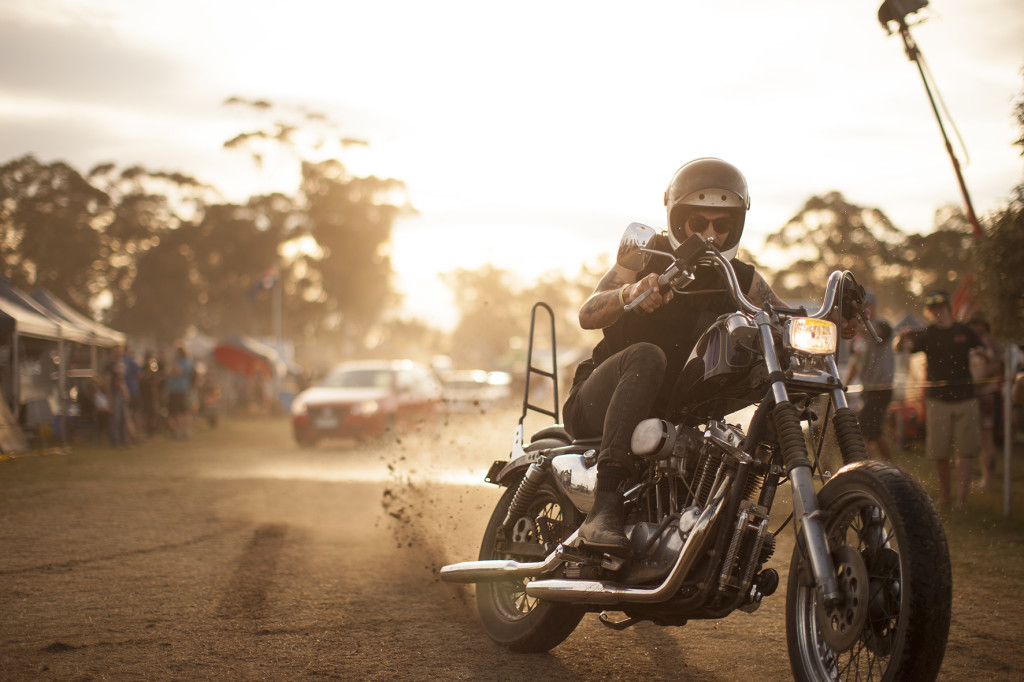 Watching good people do bad things
Theirs always a stack of story's to tell when you get home
Tales of good times.
With good people.
I didn't take a motorcycle with me because I wanted to get home and be right on track with where I left off.
I had the hubs I machined laced up to the rims and the tyres fitted, I then machined up the axles, spacers and just about everything else, its been a big job this bike, with-ought a big budget and a garage full of spare parts the lathe is the most important tool in the shed.
I started to draw up a front end I wanted, it had to be strong, light and visually stunning.
Id seen lots of rigid front ends on bikes in America and I like the idea, its not for everyone and this bike wont be used for the street so I went with it.
1.25 chromoly tube
Steel triple clamps, it will all be welded up and chromed for whats set to be a stunning and simple front end.
There's still a heap left to do but the electrics are sorted with a new Joe Hunt magneto for firing duties.
Overall I am stoked with my two vintage motorcycles, together they share over 100 years of history, I ride my Harley every chance I get and its been perfectly reliable.
My shop dog Min is looking forward to summer and so am I.
Celia and I enjoyed a quick trip to Italy a few weeks ago, I fell in love with vintage timber speed boats, im not sure if thats a good thing.
But the places we saw were amazing.
Oh and my sister says the beard has to go before her wedding, so here's a parting shot, till next time.
Thanks to Dean Walters for pics, also thanks to Analogue Academy for processing my film, also thanks for reading, I promise there will be more interesting stuff coming real soon.