This time 2 years ago i returned from Japan hell bent on creating something i had dreamed of for so long, that was 2010, its now 2012 and that dream has become a reality.
2 years is a long time but not when your building a car (or 3, a shed and a bike), i try and make every single day count for something, if im not in the shed then im planning, im planning things in my head and making sure when i open that shed door i know excactly what im doing and have the tools to do it.
2 weeks ago i picked up the motor, its the built motor from my PS13, Donny from Forced Motorworx tore it down, machined everything, checked over all the components and sealed it back up for me. That is the real reason the PS13 is going NA, i dont see the point in building another turbo SR20 when i already have so many of them.
I removed the front end (which is a simple process) and then slid the motor in the hole, with the RB25 gearbox attached i can now measure up a tailshaft and start on the rear mounted alternator setup.
Its getting a little tight in the engine bay and i dont want anything mounted on the turbo side of the motor. That means my factory SR20 (albeit highly modified) Power Steering pump will be mounted low on the drivers side of the engine so the alternator gets thrown out into the rear end.
The battery sits out there aswell in a sheetmetal battery box i knocked up. The cut off switch will be back here aswell with a cable operated incabin remote switch, the cable will run through one of the four tubes that connects the engine bay to the rear end. Through these there will be fuel feed and return, taillight wiring, fuel pump wiring alternator wiring and rear brake line.
With the motor mounted in its final position i can make all the plumbing aswell, that incorporates a radiator swirlpot and high fill point, fuel lines, fuel regulator, intercooler pipes, air temp sensor, water temp sensor, fuel pressure sensor, oil temp sensor, oil pressure sensor and MAP sensor. Im not going to even start any wiring until everything is mounted. Im a little lost when it comes to doing the wiring, im not 100% on doing that myself and is welcome to any help or suggestions you may have on that, if you know and travelling wiring gurus that can supply Mil spec connectors that wouldnt mind staying at my place a few nights then hit me up.
Its at this point i start to appreciate the removable panels in the tunnel, they make working on everything a breeze and all that heartache building them is so worth while now. I got busy with the holesaw and cut out the shifter hole, the handbrake is only sitting in position at the moment as i need to make sure im comfortable with it.
On this subject i wasnt going to run power steering but incabin room is that crucial that i decided i needed it, that way i can run my Nardi Classic Suede wheel in the 330mm diameter, this gives me much needed room around the controls and handbrake. I ditched the steering column i had made and started from scratch using sealed BMX wheel bearings front and back, its all removable and i have another Lifline Spline on the way from the UK to weld on.
Im not 100% sure on my switch panel sitting there, its simple, easy and direct so it might stay, roof mounted is an option but i dont want the cable up there. My shifter will have to be doglegged forward, its going to look a little off but it has to be that way, its been my one issue this whole build, if i could sit 4 inches further back then so many things would be soooo much easier. Thats single cab ute life for you…. Form < Function 😉
I have to shift my dash 50mm further forward otherwise my knuckles will be hitting it, i have the hights spot on, the wheel and column arnt adjustable so this was really important.
I took my harnesses to a canvas shop and they changed the lengths for me, they had sewn up one pair about 50mm shorter than the other and obviously took no notice of my careful markings. I always walk away saying the old saying "if you want something done right then do it yourself" but it actually worked out for the better as i have enough adjustment for FC size passengers.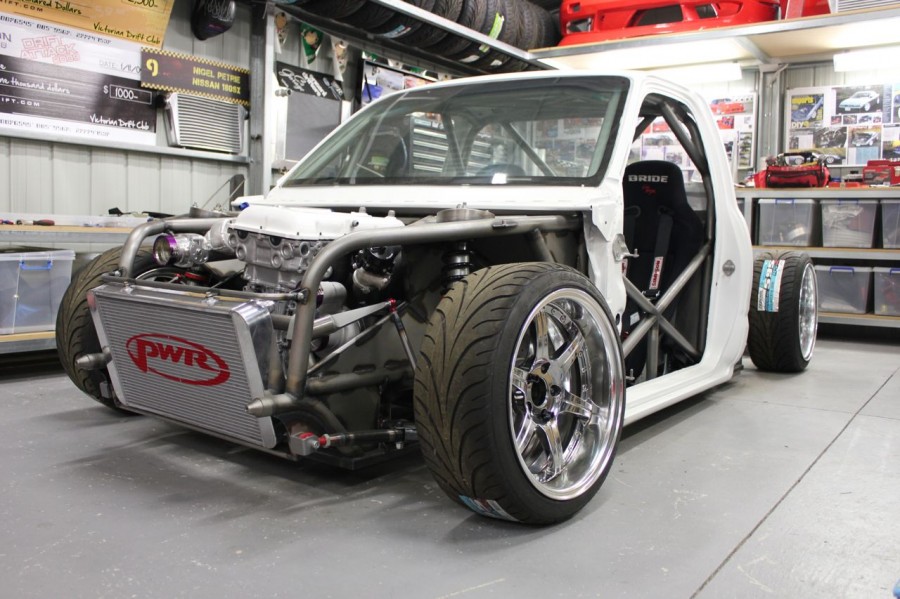 Looking back through my posts i have come a long way, it dosnt seem it to me as i look at this every single day but its getting there, im looking forward to the day that i remove everything back to a bare chassis, lay out everything in the shed, go over every single part to make sure its 100% finished and fit it for the test assembly. Once thats done it time to fire it into life and then test drive it. I can garentee you that will happen in the first half of 2013, then 100% finished off before this time next year. Its so close i can taste it.