June 16th and 17th marked the return of the Australian Drifting Grand Prix to Melbourne Victoria, this was the second round out of four in the 2012 season. You may remember last year i was the ambassador for this series and i am very happy to see it grow so much in the year it has been around.
I made the decision at the start of the season to not become a "registered driver" this means i wouldnt be doing the first and last event but the two inbetween being Melbourne and Adelaide.
The reason for this decision was based on a number of reasons, mostly being time and budget, i wanted to spend solid time on a number of things including getting the Hilux finished.
The 180SX has been a great car to me, leading up to the event i took the car to Dr Drifts dyno and had Sam extract some more power out of the internally standard SR20, with 260KW i was looking forward to unleashing that power to the tarmac of Calders Thunderdome.
Another change was the addition of 245/40/18 Federal 595SS, i normally run 235s so i had a little more traction and a little more power, the Federal Tyre has always been an amazing tyre and with the addition of 595RSR Federals up front the car is very well balanced.
I come into this event like any other, i know the car has some shortfalls over its competitors but its true to my style and an incredibly fun car to pilot. It may not be the most competitive car out there but it can mix it with the best of them.
Heading to the track at 4am makes for a long day but with the support of my team and sponsors it makes things a lot easier, special mention to Greg for helping with everything in the pits.
Saturday was setup as a practice and qualifying day with sunday being the main event. This circuit layout has not been used since last years event so everyone used the morning to get everything setup and dialed in before qualifying, having outer clipping points that are concrete walls throws another dimension into drifting, its favours those that are consitent and controlled.
I enjoy this track, i think it suits me because i begin to focus more on line when its sorrounded by concrete, the added pressure brings out the best in some and the worst in others, there were a lot of casulties and a few cars were back on trailers and heading home only hours after driving commenced.
I spent practice trying a few different lines and then spoke to the judges before qualifying, we had Chris Dejager on the judging panel this round and we as drivers respect his decision and input a lot, theres very few people that have had his amount of drifting experiance at his age.
I ended up qualifing in 7th position with a few small "Line" deductions that kept me out of the top spots. I was happy, the car was ready to go for sunday, i was mentally prepared for the battles and an early night at home was on the cards.
Sunday morning spelled more practice, more time spent with other drivers to see what speed/line they take and then get ready for the battles.
I was up against Andrew Cosidine from Tasmania in his Toyota JZ powered S14, Consi has always been a tuff competitor and this time was no different, taking me out in the first battles with more car speed and some of the finest chasing the judges have ever seen.
It wasnt over as i continued to drive in the expression sessions, every time the track was open to drive then i would be out there, lap after lap enjoying everything that drifting has to offer, the Origin Aero took a little bit of beating with a few wall taps removing both bumpers.
The crowd voted me to battle as the "Peoples Champion" which i was super happy about, thanks to those that voted, i battled Simon Michelmore from SA and came out with the win on a wet track.
I have to thank a few people for their help, firstly Greg and Jords for being my pit crew, fitting tyres, checking pressures, checking fluids and keeping the car clean means a great deal, my sister Carmen and girlfriend Celia for their support, Federal Tyres for their continued contribution, Laurence and the team at Wheeltech, these guys are the best and cant thank them enough, Pavel my web guy, Darren at M-Power for not only supporting my car with M-Power enhancers but also helping with the the tyres, Sam Cornell from Dr Drift tuning, the car is faultless and a direct reflection on the skill of his tuning, Brenton Rae at Brae Fabrication for the best and most faultless manifolds in all of Australia, Katie at Savanna Motorsport for the Genuine Origin Aero on the car, Kyle at Bodytek for keeping everything red on the car. Adding to this mad props to the ADGP crew who make this happen, Andrew, Brett, Yoshi, Judges, Steve and Ben on the startline, Tessa and the rest of the crew and camera guys. Thanks to Scotty Mitchell, Joey, Justin, Gwyn, JRM and fellow media crew for the amazing pictures.
I gotta thank my 180SX too, this thing has been put through pure abuse over the last three years and has stood up to the most severe thrashing, it is the roots of drifting and a reflection on my style, it may not be super competitive but it is the most fun to drive.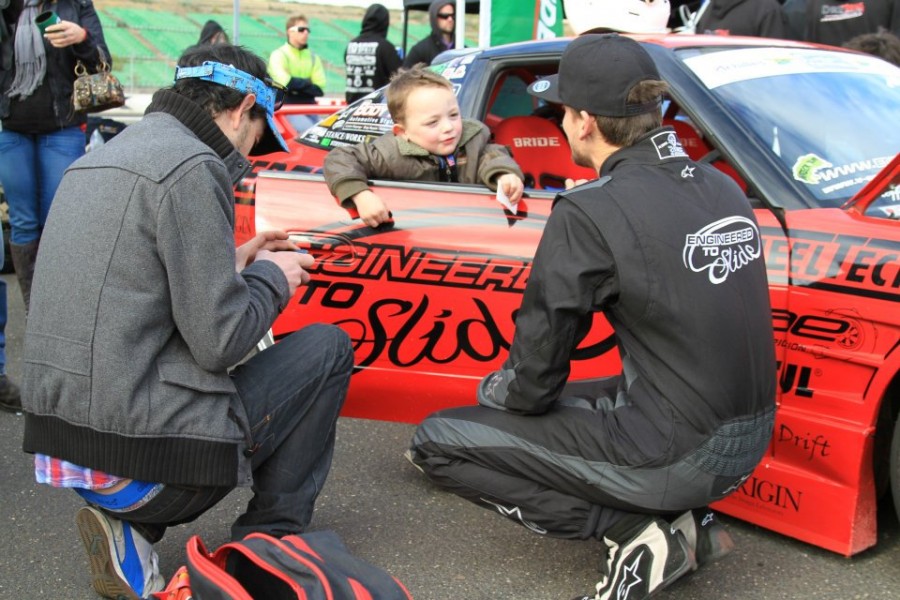 Thanks to the fans for their support, every chat, photo and signature during lunch time makes a big difference to the drivers, it adds a cause to the mayhem and makes us push harder than ever before, every attendee that paid entry to the event made the future of ADGP that little bit brighter.
Thanks to my fellow drivers aswell, the amount of drivers in pit lane that have put everything on the line to compete in the sport they love was great to see, if Australian Drifting continues on this path then we have a bright future.
Make sure you all head to round 2 of ADGP in SA and support what has been built to support the sport!