Im here in Tokyo reflecting back on a pretty crazy weekend
It all started on friday afternoon when i took my KTM up to Oil Stained Brain exhibition
Oil Stained Brain or OSB for short is the brain child of two mates who love bikes, Jimmy and Ritchie.
They wanted to focus on the backyard builds that take more time and thought rather than wads of cash and heaps of shiney parts.
This made the event very unique with a very different flavour to any other bike show id ever been too.
The event was staged at 1000 pound bend Cafe in the CBD of Melbourne
For just a gold coin donation you could see over 30 custom bikes.
Also artwork put on by Kustom Lane gallery, if your into "Lowbrow" art then you would have heard of these guys.
There were bikes of all shapes and sizes
With the owners custom touch imprinted heavily into each one.
I was digging the early dirt tracker styling
Builds spanned from 3 year builds to 3 week builds
The mighty FCR carb
Some are more art pieces than motorcycles, although air suspension allows this stupidly low ride hight to somehow remain functional
Starting to get addicted to metalflake helmets, Japan is the home of pinstriping and metalflake so im going to try my best to find some cool bike shops while im here.
Id like to one day try my hand at some airbrushing and pin striping
Make sure your mum dosnt throw out her old curtains, you can use the lace to drape over your tank and create a cool effect.
Infact if you can think it then you can paint it, anything goes.
Love the early full face design
There were some cool helmets at OSB and they all wernt on display, most were hanging on bikes in the carpark.
This Kawasaki blew me away, its owner just made it to the show as he had just finished the bike only hours before, its super neat.
The guys from Rocker motorcycles brought along this bike for the show, its superbly finished.
I brought along the model i made a while ago, its still looking good with a neat table i made for it.
All styles were catered for
Id love to ride this, i dont know how my wrists would feel about it though, super low.
Spotless.
Great use of colours, suits the bike so well.
My KTM sitting proudly with the others, im really happy at the reaction i got with the newer bike, i was a little worried it would be out of place but everyone understood where i was coming from with the bike and what i wanted to achieve.
Step outside and the show continues
This was wild
Id love to build a bike using a HD engine, the thump they produce is like no other.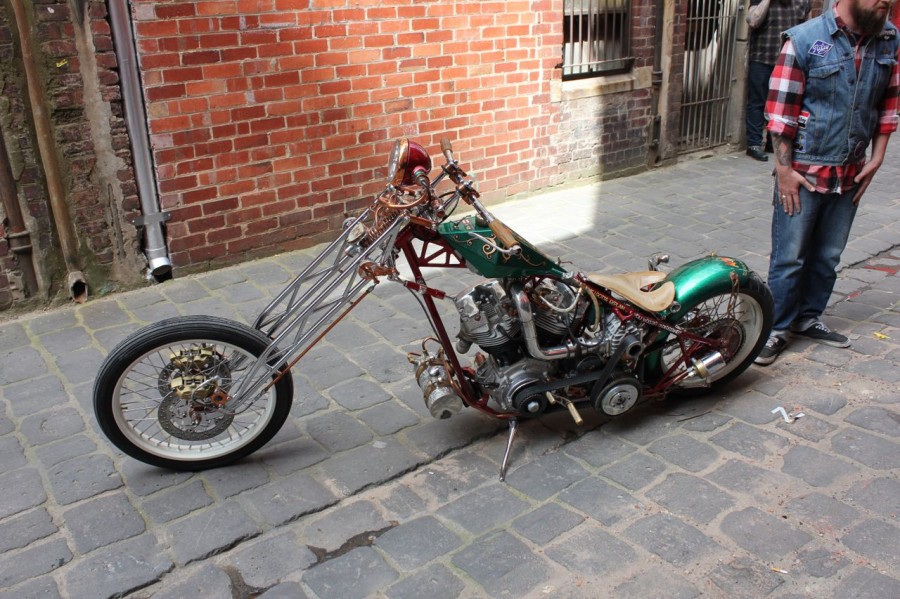 This sounded amazing in the alley way.
I missed a few bikes so i apologise to the owners, thanks to everyone for an amazing weekend and such a good night on saturday, my head still hurts but it made sleeping on the plane a little easier.