If you have followed the development of this Trinity MTB project the progression will be plain to see.
In my mind atleast I feel I have been at it a while, but when I look back to the first post it's only been a couple of years.
Finally I was at the point I could build my own frame for summer testing. I recently designed a new JIG that hold's the tubes in a much more welder friendly position, but I made do with the previous design which has been a great assistance in the build of these chassis.
I tried a different finish with this frame, I retained the darker chromoly finish and just used scotchbrite to clean up the areas for welding. Once complete I used clear Cerakote to ceramic clear coat the frame.
The great thing about our frame is that it can accept just about any drive system on the market.
Thats a blessing and a curse, for us we need to test all our side plates and drive systems which in itself is a lot of work.
Before Cerakote I assembled the frame (with our Pinion Gearbox Sideplates) to make sure everything fitted up as it should.
The bike looks incredible with that big Fox 40 fork, 29″ wheels, machined alloy rear end and chromoly chassis. I think of it as trophy truck version of a MTB.
Polished Industry 9 hubs laced to DT Swiss FR541 rims that give me KTM Motocross vibes.
It's essential to dial in seat position at full bump, our 200mm of travel makes this bike capable of just about anything.
With those tasks ticked off I could finish the frame with its stenciled logos and clear coat. We opted for external cable routing and I welded small M5 bosses on the underside of the TT, these allow 1 (shown) 2, 3 and 4 Cable guides to be screwed on should you need to run that many.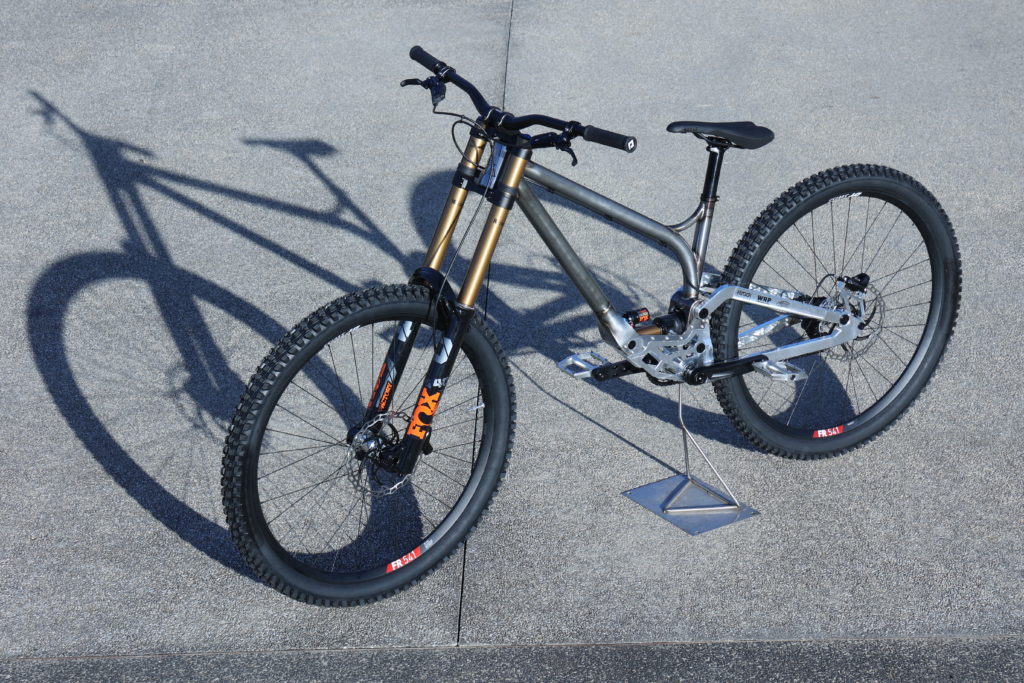 Firstly I assembled the bike using the normal bottom bracket plates, these would be used for a 7-12 speed setup or single speed as shown.
We have redesigned the rear dropout system since building this bike but you can see the corrected geometry for the 29″ rear wheel with a slight raise and shift rearward of the axle position. This is what a lot of "Flip Chip" bikes don't factor into their design. Running a 27.5″ or 29″ rear wheel is possible on our bike and it retains the exact same frame angles when doing so.
It was at this point I packed up the workshop, put the bike in the van and hit the trails.
The Victorian NSW High Country was the destination and I had 3 weeks of solid riding time planned.
Each day consisted of a solid program of riding and swimming.
So how does it ride?
The first week was on our normal BB side plates meaning I had the bike setup in its single speed guise, this simplified the testing process and gave me an opportunity to dial in the suspension and feel the chassis.
Throughout all of our prototypes I really didn't get enough seat time on each iteration to truly understand it, V1 was a great bike but the rear end was a little compliant meaning it felt great in the tighter more technical sections but then felt a little unnerving in the faster sections where berms and hard cornering were involved.
V2 Was leaps and bounds ahead of V1 and there was nothing we didn't like about it, V3 was built for Crankworx and I didn't get to spend much time on it, V4 however was the one!
By far my favorite change on this version is the stamped side plates, the down tube merge from round to square looks seamless and it removed the need for any 3D Printed metal parts in the frames construction.
I formed this in a handmade die on my 10 tonne press out of 1.6mm 4130 chromoly sheet.
Sorry I got distracted, back to answering the question…. How does V4 ride? Like a dream, I spent few weeks touring the Alpine regions of Vic and NSW and got some great feedback from the Virtual High Pivot rear suspension, front triangle geometry and compliance in the materials that we chose.
Testing means that we are monitoring bolt tensions, finishes, wear and tear along with possible revisions that get noted along the way. It's also great to get other people feedback and there was a lot of it.
With a few weeks of daily riding completed I was excited with the bikes potential, This prompted me to start testing the lineup of drivetrains we had for the bike. The one I was most excited about was the Pinion C1.9 Gearbox.
9 gears, over 500% range all mounted in a magnesium gearbox that weights less than 2kg and needs 0 maintenance. I chose the 24t sprocket but we later redesigned this to run our own extremely compact and small 18t variant.
With those changes made I headed back up to the High Country for another couple of weeks of daily riding. Having the range of a 12 speed mountain bike sure did increase my options for pedalling up and down (more on that later) but I knew that I adding 2kg to the bottom bracket Vs the single speed I was previously on wasn't going to add many benefits to the downhill experience…… or was it.
Here's where things got interesting. I had heard about people adding weight to their bottom brackets to change riding characteristics of a bike, it lowers the center of gravity which improves aspects like cornering but it also adds a planted feeling to the bike that makes it seem to handle just about everything better. I immediately noticed that my rear suspension seemed a lot more supple and plush, the bike cornered more predictably and the rough janky rocks didn't seem that janky anymore.
Throughout this process we worried about the weight of the bike and it actually turned out extremely light at 16kg with the single speed and 18kg with the gearbox, after the last month of riding I am not at all concerned about the weight as long as its in the right places.
After a month of riding the bike showed no signs of wear, in fact it showed signs of wearing in, my confidence just grew and grew and the bike seemed to be getting faster without me really trying, Pinion says the gearbox just gets better with ever KM and I can attest to that, it just made the bike so easy to look after and I only need to change the oil every 10,000km so it's a gearbox for life.
Each day I would make small notes on what I think needed improving but it was only small items like cable routing and tolerances on components, we had the bike dialled and I had trouble finding any faults.
What goes down though must come up right? Well over summer thats easy because the bike parks I visited have shuttles or gondolas, but a bike is about freedom and I wanted to see the potential that this gearbox has as on the uphills.
So I headed back to the workshop and picked up a fresh Fox 38 180mm travel fork, 200mm Fox dropper post, added a water bottle.
Spun the "Flip Chip" around and fitted a Fox Float X2 shock that uses a shorter stroke to decrease the rear travel to 175mm.
The result was a transformation, keep in mind this is essentially the same bike I had been riding Downhill on just a few weeks prior, the reduction in travel, the addition of a dropper post and water bottle allowed this bike to climb incredibly well without taking away any of its downhill performance, ok I did miss the big burly Fox 40 dual crown fork a little but it was only in the harshest of situations.
The addition of an Aenomaly seat angle adjuster also made life so much easier for climbing and descending. I have always been a less is more type of guy but all these additions add up to a bike you can literally do anything on.
So now that V4 is complete what next? Well now we go through those small fine tuning elements we noted during testing, add those into our CAD models, develop or new parts, finish off the production JIGs and get tooled up for Beta testing.
We are now so close to production and myself and the team at Trinity are excited about having you experience the bike first hand, I have a lot of bikes to build, I'll update you when orders are open by signing up HERE.