Each year I drive less and less, this year my goal was to get back to the racetrack in my PS13 NA project but it wasn't to be, at the very minimum I wanted to atleast get it running again.
As the year passed by I left it till the very last few weeks to get the new engine back together and in the car.
I took the old motor out because of some oiling issues, I swapped some parts and refined the sump setup only for it to drop oil pressure.
Turns out the sender to the gauges was damaged in that process and my glitch with oil pressure wasn't an oiling problem at all, merely a sender issue that I probably should have known.
Anyway the issues I had with oil pressure were now a thing of the past and with all of that stuffing around with the old motor I wanted to start fresh and get the car back together.
A few years ago I swapped a few parts for a stock SR20DE from the wrecker, I went through his inventory and picked the cleanest motor I could find.
When I got it home I cleaned up the long motor in the usual ETS fashion, first I remove all of the parts that wont be needed, then I cover up all the holes, give it a can of degreaser, let it sit for 5 mins, pressure wash off the degreaser, then get my bottle of Ali Brite (its a deoxidiser chemical mix that foams up) to then take a layer of alumnium oxide off the alloy leaving it completely clean and new looking. This takes a bit of work, spray it on, high pressure was it off and repeat till its all like new.
Once it was dry I took the rocker cover off and rolled the motor over while oiling the top end components and adding a little oil down the plug holes to make sure no moisture would enter the sleeves and mark the bores. Once that was complete I put the motor up on my bench and left it for a year or two.
Fastforward to now and it was time to re write all the wrongs with the last motor and put this one in place whilst I figure out what I want to do. I have a personal struggle with going too far with things (not that I need to tell you that) but the more I looked into NA builds the more I wanted to resleeve and bore my block out 6mm to 92mm and fit a 92mm crankshaft with rods and 14.5:1 pistons to create the ultimate 2.45L SR20. I will do this one day but thats probably $10k worth of work for around 50hp in a car I use once or twice a year.
So with the new standard motor all assembled I took the opportunity to take some photos before it went into the car, its a thing of beauty and something that I never get tired of looking at.
I get a real kick from looking at this motor, since the beginning (and I think it stems from my first car being an Escort RS2000) a 4 cylinder with quad throttles and a long primary header like this has always been a goal of mine. I recently made one of these and have produced a complete course on the design and fabrication which you can find here.
I can't tell you how hard I searched the internet back in the day looking at Japanese race SR20 engines with complete envy.
And although this motor is completely internally stock I think I have the external components just right.
It's such a great match for the simplicity that is the PS13.
Which gave its original motor up for the Hilux project.
I also have the option of running these Carbon trumpets, these go inside the Carbon airbox that the very talented Cooper Composites made me as can be seen in an earlier post.
Truly beautiful work!
With the Nissan S15 6 Speed slipped into the Nismo clutch I can get the whole combo ready to slip into the engine bay.
A few more photos before it all goes back together.
Time to roll the car out and make it one again.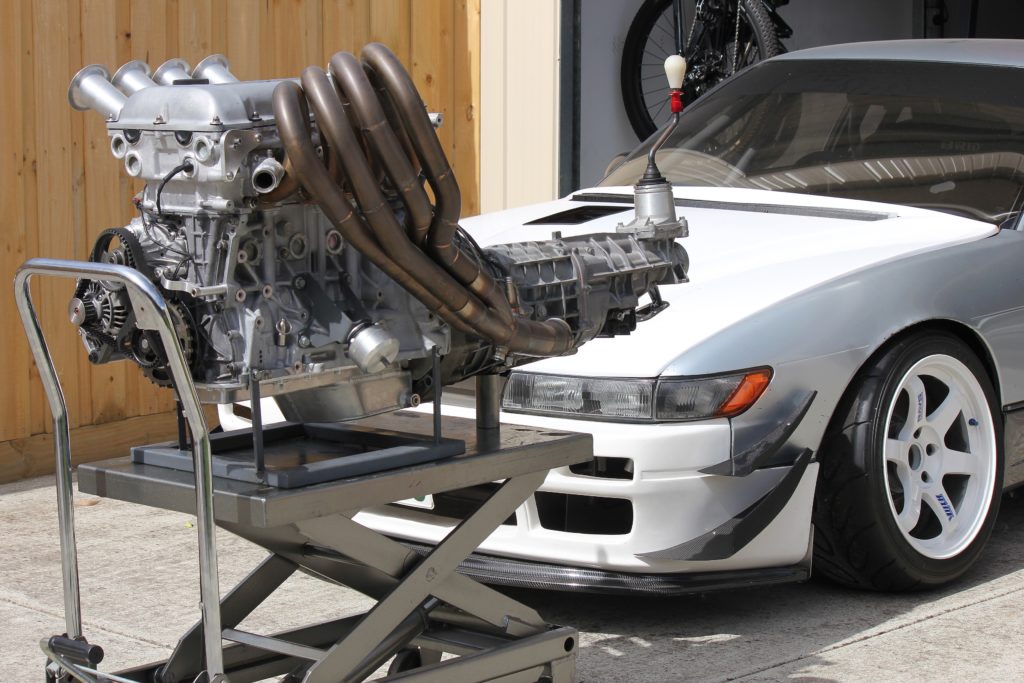 I usually take it all out from the underside but I think the combination of this trolley and the engine crane get the job done well enough.
And just like that it's home again.
After a few tweaks, some fuel and a fresh battery it fired to life, had ample oil pressure and sounded amazing.
Im that keen to get back to the track, hopefully I can give this engine a run at Phillip Island in 2021.
As the busiest year of my life draws to a close I am excited that I found the time to get these three cars ready to hit the track, I may not have made it this year but I am hoping that can turn around next year and I can enjoy the crazy amount of hours that I have put into these. As always thanks for reading and have a great holiday!