It all started with a trip to Japan in 2010, I went to see drifting and ended up falling in love with vintage American motorcycles, sounds crazy right? I'll try and explain myself.
While exploring Japan I kept being drawn to a vintage American culture that is so popular in Japan.
It came as a complete surprise to me, something stuck with me after that trip and once I had finished my Hilux I just had to get over to the US and experience it for myself.
My honeymoon in 2014 was the time of my life, I spent 6 months looking for a vehicle to take my wife and I across the USA, I searched high and low for something pre 1989 and finally settled on my 1965 Econoline van.
The more I delved into American automotive culture in the 60's the more I loved every single aspect about it.
I now have a complete addiction to the boats, cars and motorcycle's of the 1960's and I am not alone.
My Dad (who is largely to blame for this addiction) also shares a love for this era, together we have a collection of pretty amazing machines but I want to focus on this Triumph powered Rickman Metisse for a minute.
Through my love for flat track racing I was exposed to the race bikes of the 1960's, Harley Davidson's went toe to toe with Triumphs in the early days and both manufacturers recognized the sport by bringing out race ready machines in the form of the Harley XLR TT's and Triumph T120 TT's.
The Triumph TT was the lightest and most capable race bike available, it was quickly becoming the bike to have for Southern Californian Desert Racing.
With Motocross still in its infancy European fabricators/ engineers/ racers Derek and Don Rickman were building state of the art Motocross rolling chassis to suit a number of engines, these were named Rickman Metisse, Metisse being French for Mongrel.
These frames are an absolute work of art, Reynolds chromoly tubing, brazed joints, nickel plated finish and internally sealed to hold the engine oil in the frame and make it an effective large surface area oil cooler.
This bike is a Rickman Metisse Mk3 originally designed for the Triumph 650 Bonneville engine and a special build for the Southern California dealer John Steen (who him self has an incredible story).
It is special in the fact that it's the original Steve McQueen Desert Racer, complete with the original Rickman hubs, desert swingarm and sprocket set. Built in 1969 and exported into Los Angeles where Steen's fitted a 1971 Triumph 650 Bonneville engine.
Sitting on this bike is something else, the slender tank combined with those bull horn header pipes, the super comfortable seat, it feels as narrow and as light as a modern motorcross bike, the Rickman brothers were certainly well ahead of there time.
Reach under the fibreglass tank and turn the fuel tap, give that Amal carb a tickle, roll the kicker over gently until the compression stroke, then give it your all. It barks to life and sounds absolutely amazing, this particular engine has just been freshened up and readied to race, it sounds like it too!
I had been looking for Triumph T120 TT for a while now, the prices on these are sky rocketing, I couldn't see myself riding a TT how I wanted without modification, this on the other hand is the perfect bike for some recreational off road riding aswell as some occasional vintage racing.
It's one of the most desirable bikes of the 1960's and is now safely in my dads possession (and mine when I convince him to go for a ride)
I'll be travelling up to the RedBull Day in the Dirt Down Under in QLD next month, if you have something interesting or want to take a closer look at this bike then swing by the TT track and have a listen to 1960's perfection.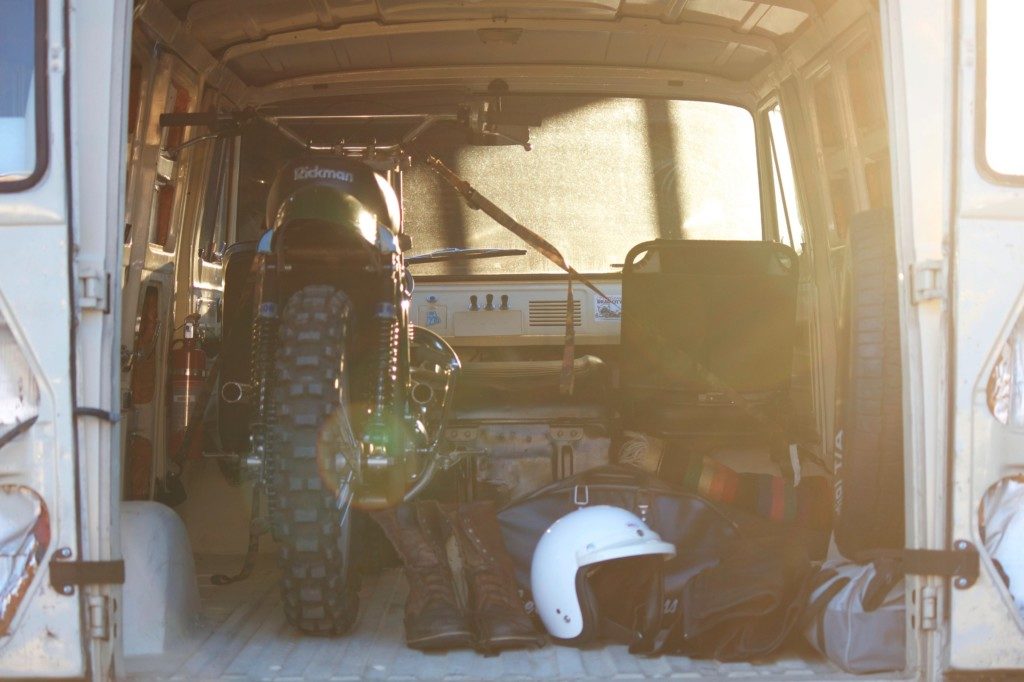 I managed to find a reproduction of an original 1968 Bell 500 TX-J helmet in Japan, these have a drastically different shape to the current open face helmets and completes the package.
I'm not the "king of cool" but when I'm on top of this rumbling Metisse I can at least get an idea for the exciting life Steve McQueen led, he may not have been far away from this very machine either!