A few months ago I had a request from BMW Australia to help bring some flair to their upcoming Sydney Motorcycle Expo display.
The project involved two bikes, the first was a 1200 Adventurer that needed a display stand.
But not just any stand.
One that could lift the bike into a wheelie position and be stable enough for people to climb all over it.
In typical me fashion I quoted it on an extremely simple plan.
Then spent every waking minute making it as spectacular as I could.
Using seamless 2.6mm wall tube.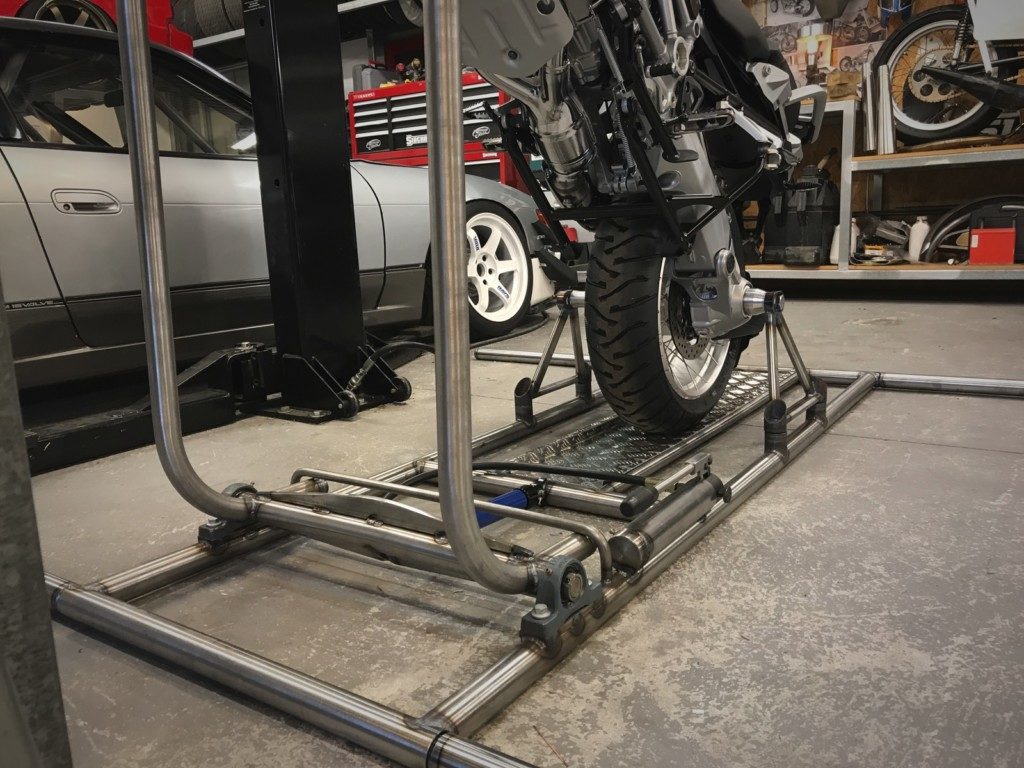 It turned out to be pretty spectacular and way different to my original concept of it being pretty simple.
A few months later and my trip south from the Gold Coast via the Supercars on Saturday, then the Motorcycle Expo on Sunday I was able to see my work in action.
I loved seeing peoples reaction to my work and them being completely oblivious that the guy who built it was standing next to them.
Thats not where my influence finished either, I made a small slip in brace for this S1000 to sit over on lean angle and allowed people to get their photo taken.
It provided the BMW stand with a really friendly and interactive space that was buzzing with people and their positive opinions.
Thomas Bexton custom made this board to suit the BMW Urban GS and I made the two come together.
I made multiple sets of these bolt on board racks.
So if you see a BMW with a surfboard on the side it might just be my work.
Seeing it all come to life.
It wasn't all BMW though, my love for KTM still burns within, I still lust over a brand new 350 SX-f, I may hold the land speed record for AG-350 in Australia but I would swap it for a dead stock 350sx-f in a heart beat.
Look through the sea of orange.
Into the eyes of one man who's achieved a lot of things that 99.9% of people wouldn't dare to do.
The bike of a true Australian icon, Toby Price.
KTM's stable mate Husqvarna had a great lineup.
I really love their innovation when it comes to making concept bikes a reality.
Husqvarna really seem to be on the front foot when it comes to styling.
But their dirt bikes share a lot of similarities with their battle proven KTM brothers.
There's just something about dirt bikes and race slicks.
Over at Honda they kept the two firmly separated.
The race slicks.
The dirt bike.
Component manufactures shared the floor aswell.
Seen on many of the manufacturers race bikes.
Including Yamaha.
Who had the biggest display of all.
It was really impressive.
Taking up a lot of real estate to display their range.
While also incorporating the custom bikes that builders have restyled.
Some bikes just really stand out on their own.
For those who want to go fast.
Or stand out from the crowd by going back in time.
Bikes like this Ducati Scrambler just scream freedom.
But I just couldn't stop looking at this Royal Enfield, the Desert Sled inspiration for this build and the way it was subtly finished was really really good.
I probably wouldn't use that bike as a base for this build but when you think about brand new air cooled motorcycles that will leave you enough budget for the build then you probably couldn't go past it.
After watching some 75 foot ramp to ramp freestyle action I was done.
But the very next day I had to head home and I was sad that my vacation lifestyle and living out of my van was over.
After a swim at Bondi Beach.
It was time to head home.
Load up the trailer again and prepare for the 10 hour drive back to work.
Thanks to BMW for entrusting me with this project, I always enjoy having a level of creative freedom and seeing it all come together at the show made it all worthwhile.