Everything I have done in the last 7 years has been supported by my partner Celia, now I can proudly call her my wife after our wedding last weekend. Ill keep all the boring lovey dovey stuff to a minimum but heres a quick run down of the action thanks to Justin Power.
I made my own wedding ring from a small bit of Ti bar stock I had lying around, I heated it with the oxy to get some nice colour into it on one side, the other rings are Celia's wedding bands that I had to take care of for the day.
My best man Dean and I took off on the bikes in the morning to relieve the nerves, we stopped for a coffee and then hit it to the first photo spot, I had helmet hair for the rest of the day but Celia didn't mind!
We met for photos at a few locations and the Autumn weather was kind to us, warm and overcast with just a few drops of rain.
My dad owns a 1966 Fastback Mustang that he restored and he kindly drove Celia and her bridesmaid around all day, it was a special moment driving down the highway in the Hilux next to the Mustang.
We pulled over for some more photos in another location not long before the ceremony was set to start.
Getting married in the country gives a really nice laid back feel to the day.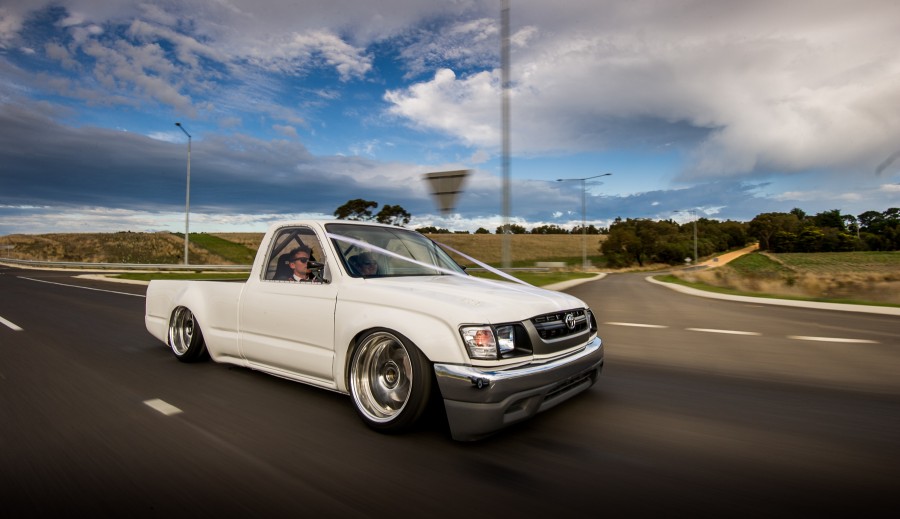 Then it was off to the ceremony, driving this on the freeway just made the day all the more special, did you know that it could have been in a container bound for Gatebil in Norway? It was the cancellation of that trip that made Celia and I decide on this date.
So now we are married and couldn't be happier.
Celia put her heart and sole into this event, for the last two months this has been her life, organising and planning every single little thing, a home wedding can be spectacular if you plan it right.
We ate, drank and partied the night away, telling people all about our honeymoon plans which has consumed me for the last few weeks.
Thats because we are off to America, in a lifetime adventure for both of us we are going to travel the entire length of the vast country side of USA on something that I will detail in my next post. Stay tuned to this website as all will be revealed soon!
Celia and I would like to thank everyone for their well wishes, we had the best night and thank everyone involved for making it so special.