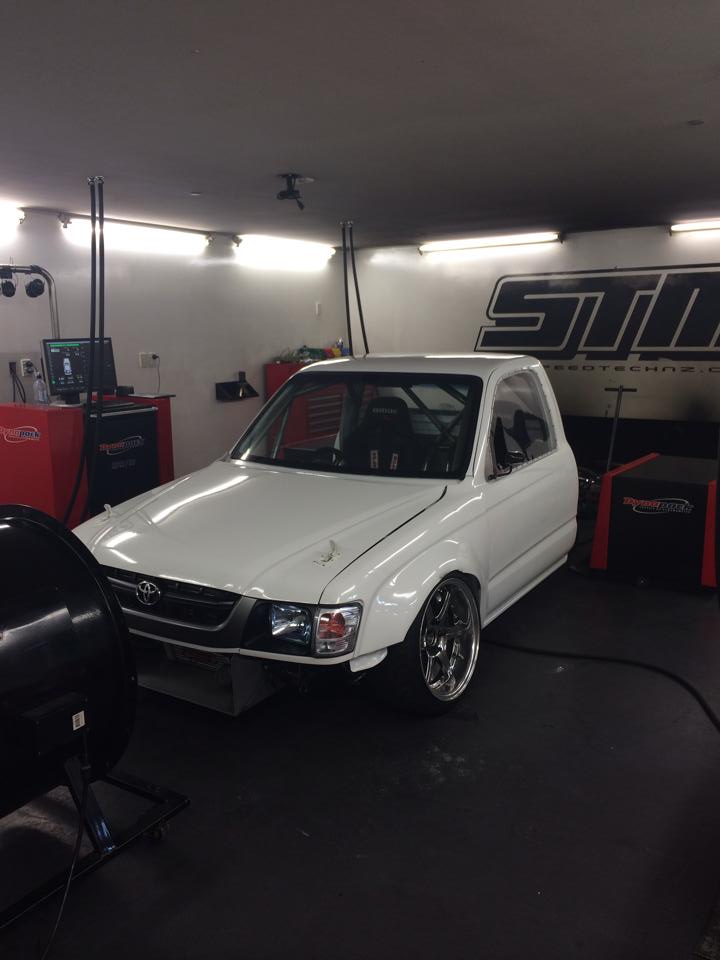 If you read my previous post about the Hampton Downs track day then you will recall my minor issue with power, after Andre and Ben extracted 287rwkw on the DTM dyno last year I was excited to drive what seemed to be a weapon on paper, 950kg and 287rwkw was the quickest thing I had ever been in.
To be honest with all the test days I have driven it it has never really blown me away, I mean yes its amazing yes its fast but it wasnt what it seemed on paper.
So when Azhar, Matt and Bec took Hilux down to Wellington NZ I had the chance to get Andre to look at it again. Since meeting Andre he has been the man that makes this move, having hit the button for the very first time, having tuned it for the very first time and now having it at his shop is a huge weight off my shoulders, whenever Andre has something to do with this project I know its in good hands.
So this morning while im in another country Andre had a moment to bolt the Hilux up to the Hub dyno, he quickly let me know what I had been thinking from the very start, yes it was down on power, how much? try 194rwkw.
So that is music to my ears, that exactly what it felt like it had!
The next msg I recieved from Andre said something about how good he was followed with a picture of a spiraling graph in the vacinity of over 300rwkw……. Wait, what? He fixed a simple triggering issue from the laptop and ran it up again netting 321.6rwkw at 22psi on 98 pump fuel.
Im so happy right now, at Hampton Downs I had the time of my life, drifting the Hilux round the track, getting a feel for the chassis and how everything works, it was so good, now with the prospect of another 123kw at my disposal it will transfer the Hilux into something a lot wilder. I will be able to change up a gear mid corner, link longer sections and mask mistakes all with my right foot.
Huge thanks to Andre, the team at STM, the guys from 4 and Rotary for helping get the ute there and everyone elso who has helped out.