As I settle back into a normal lifestyle it gives me a chance to reflect on the last two weeks. If you had trouble following the massive amount of progress then let me give you a quick run down.
I worked day and night in the days leading up to Andre and Bens arrival, having my jobs all finished off took priority over sleep and I went to extreme lengths to make sure I wouldn't let the guys down with wasted time doing jobs that should have already been done.
After picking Ben and Andre up from the airport Andre wasted no time at all getting into his role, I honestly didnt know what to expect, I knew Andre did some pretty amazing work but what he completed in the time he was here in Aus gave me a new understanding of what some people are capable of.
He worked tirelessly day and night to complete both the chassis and engine loom and did it to the best of his ability. You just cant appreciate the time, effort and thought that goes into wiring of this caliber, perfect concentric twists give the loom an amazing amount of strength and flexibility and making sure every wire was in perfect synchronization with each other was something I had never witnessed before.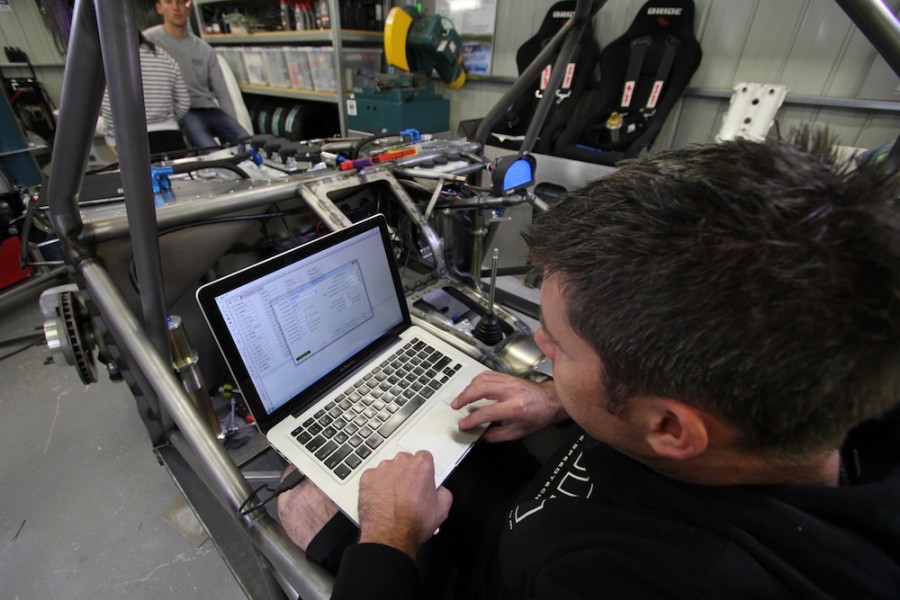 Once the chassis was wired he learnt and programmed the Racepak Smartwire to do all that I needed it to. In no time the motor cranked, the headlights worked, the indicators flashed and the fuel pump was able to be switched on.
As Andre was doing his thing I was also busy, from feeding these guys to routing wires to welding on earths to picking up parts it all had to run smoothly. Ben was also a great help, he was the one that made sure you guys at home had an insight into what happens behind the scenes, Ben was the brains behind the webinair and the one who kept everyone up to date.
It seems like a massive blur but that moment when it fired into life I will remember for a very long time, I will admit that it lifted a lot of weight off my shoulders, its a massive milestone for the build and the greatest achievement I have had in the last 2 years of the build.
That very next day we were off to the dyno and I have to give a massive shout out to Aarron and Craig at DTM Transmissions, to be able to use a dyno and not be rushed gave Andre a chance to teach me and get the best out of the tune.
After a rushed trip to Melbourne for a new alternator it was making near 300RWKW and producing that perfect SR20 torque curve. The straps were released off the dyno and it was a signal that Andre and Bens work here was done. Once the ute was back in the shed we all breathed a sigh of relief.
I want to send the biggest thank you to Ben and Andre from HP Academy in NZ, you have taught me so much in the last 2 weeks and given me something that i will spend my lifetime appreciating.
Thanks to Aarron and Craig from DTM transmissions for the use of the dyno, without your help things would not have ran as smoothly as we would have liked and with such a tight schedule you made our lives a lot easier and that made the biggest difference over the last week.
Thanks to my girlfriend Celia for all the work she put in behind the scenes
Thanks to all those that lent a helping hand and a massive thanks to all those that followed us and tuned into the webinair, your questions, support and interest puts a lot of meaning into the effort Ben Andre and Myself went to.