In the last Japan post we saw the carpark and the drive to MSC, now we are inside we will check out the machines in the pits. MSC coverage will be a 4 part series, 1 getting there, 2 machines of MSC, 3 engine bays of MSC and 4 the action of MSC. So here we have the cars, enjoy!
A civic that was parked for grip duties.
The Run Free AE86, these two looked awesome together
The Meisters look great on the notch back
A Laurel and Kouki S14
This 180 looked and performed incredibly, it was running a T67-25g
Huge guards helped cover the low offset DriftMasters on this wild S15
Clean and complete S14 Silvia
Fluro Gram Lights seem to fade quiet easily
Nicely widened JZX performed well
So many bright colours at a japanese track day
Team magician are "stylemasters"
Team Illusion had two JZXs at Mobara
Its a pitty the Magician S14 lost its front bar
This Red S15 was driving the grip sessions aswell as the drift sessions, red S15s are just so right.
Front bars dont stay on long
Wide S15 looked so clean in white
This S14 was setup really well
Monster guards on this stylish 180sx
This famous Supra was competing in the grip sector
The power delivery and braking seemed so strong
Parked in the VIP section, the GTR might have belonged to one of the judges
The entire body on this S14 was wrapped in carbon vinyl
Pink on red, its something you would never choose but it looked so dam good, one of my favorites
So good! I loved it
The garage Mori S14 was running a new Tomei turbo and gives a lot of feedback to Tomei on how it performed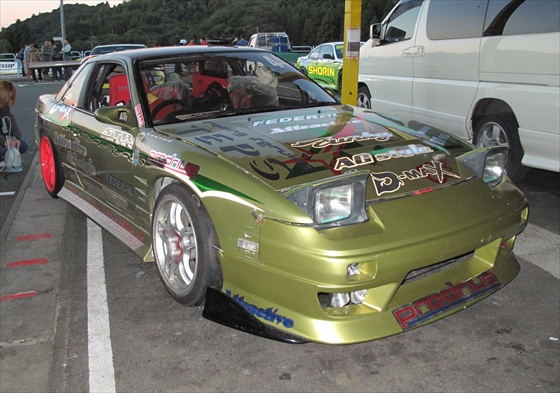 We saw this car again at D1SL
Thats a wrap for the machines of MSC, next up the engine bays of MSC.